PUREE.app

Catering software solution to help manage your catering business
Searching for a tool that balances simplicity with functionality? PUREE.app is the catering business solution you've been looking for. It helps you generate detailed catering quotes and effectively manage order logistics. This user-friendly application cuts through the noise, delivering a straightforward and intuitive platform to run your catering operations. With PUREE.app, you can focus on what truly matters - delivering exceptional service to your customers.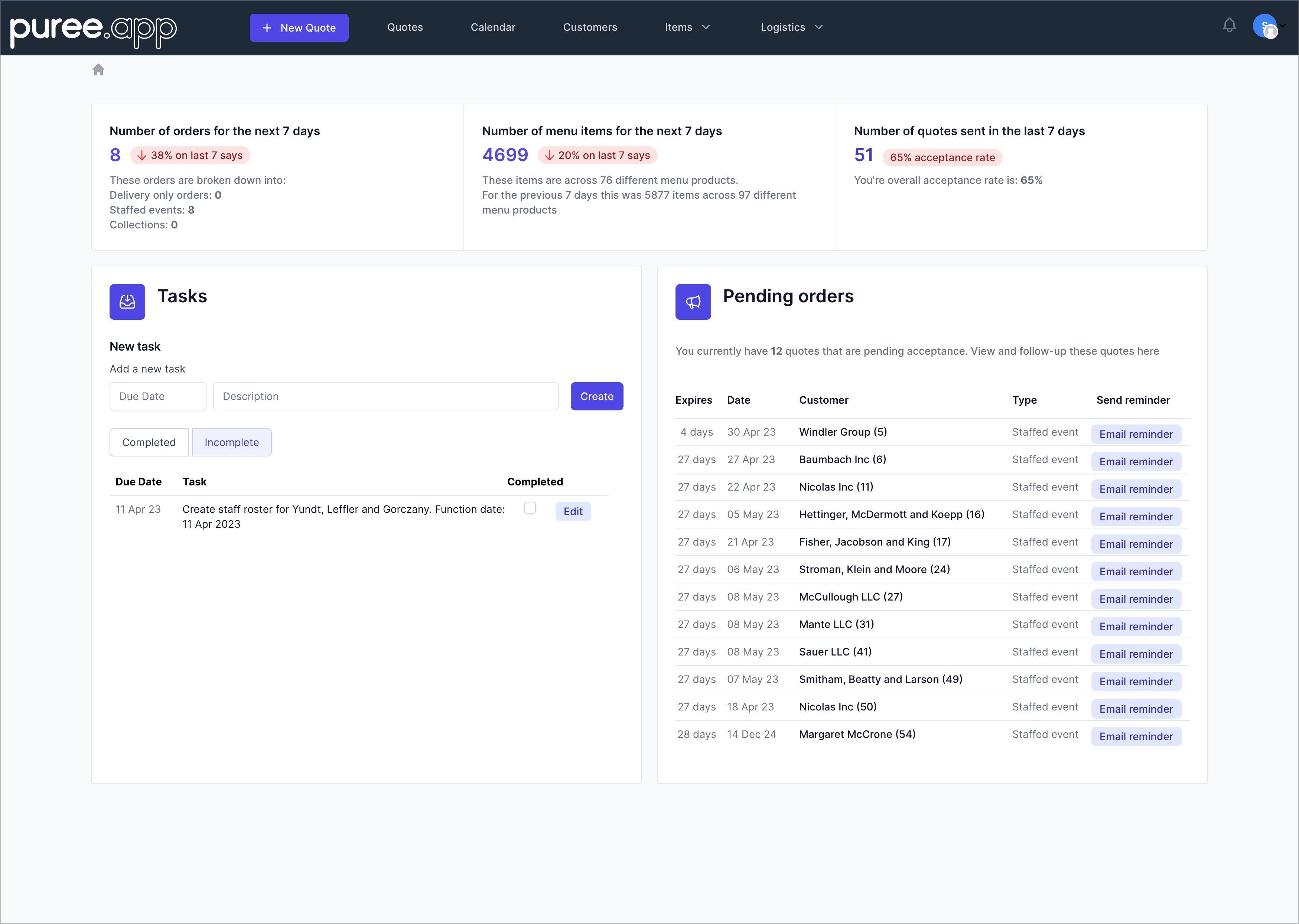 All-in-one catering application
At PUREE.app, we've designed our app with one goal in mind: to give caterers all the functionality they need without overwhelming them with unnecessary features. It's the ultimate advantage of having an app built from the ground up by a caterer, for caterers. No more navigating through a maze of options, no more confusion. Just the tools you need to run your business smoothly and efficiently.
Quotes / Proposals

PUREE produces the most comprehensive and professional looking quotes, yet ridiculiously simple and quick to prepare.

Online quote acceptances

Email the quote to your customer through the app, they accept by a simple click of the button, you get notified and PUREE automatically updates the order status

External supplier mgmt

Load all of your external supplier information into the Puree.app and then include in your quote (hire companies, beverage suppliers etc). Puree.app will then easily create orders that can be sent to these suppliers.

Customer menus

Customer menu's are automatically created and can be easily emailed to your client from inside the app.

Security and Privacy

Hosted on DigitalOcean, our application enjoys the robust security and reliability of a world-leading cloud infrastructure. This ensures your data is safeguarded with the highest industry standards, so you can trust our service's unwavering commitment to your data security and privacy.

Next 7 days

A unique view created by Puree.app. A consolidated view of all your items ordered over the next 7 days ... your chefs will love it !

Delivery dockets and run-sheet

Easily create a run-sheet for your delivery driver, and print delivery dockets designed especially for the driver with all the necessary information.

Equipment dockets

It's not just about the food, a caterer needs to manage the equipment logistics that go with running an event. PUREE produces specific packing slips used to ensure no peice of equipment is left behind
Everything you need for
USD $59 a month
$54 per month if paid annually. Plus local sales taxes. Includes every feature we offer. No ongoing commitments. Cancel anytime.
Want to try our demonstration account?
Before you sign-up, we encourage you to experience all the fantastic features of our application with a hassle-free demo account.
It all starts with a quote
It's all about getting that first step right! A caterer can spend countless hours preparing quotes, with multiple variations to boot. But with PUREE.app, creating a quote is a breeze. Our app streamlines the process and allows you to present your customers with a detailed and professional proposal in a matter of minutes. Imagine all the extra time you'll have to perfect your recipes and wow your clients. Let PUREE.app take care of the paperwork, so you can focus on what you do best!
PUREE is amazing. It totally transformed our business. We now win more quotes, we've increased our productivity and decreased the number of manual errors we were making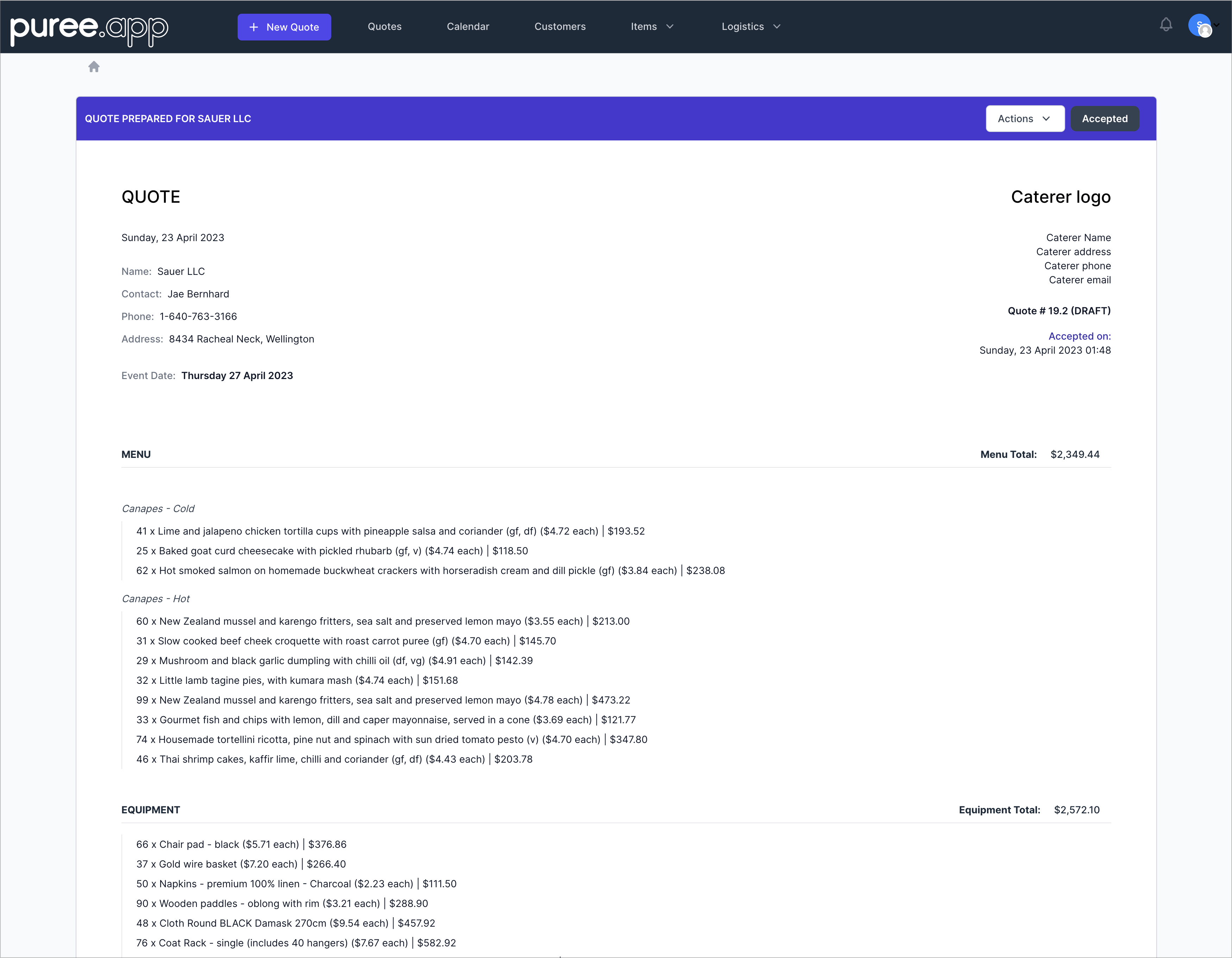 Running a busy catering company can be a juggling act, with a million moving parts to keep track of. But don't worry, PUREE.app is here to make your life a whole lot easier! Chefs can view all their orders in a snap, whether it's just one customer or a whole day's worth. Packing slips for equipment are a breeze to prepare, delivery drivers get detailed dockets, and that's just the tip of the iceberg. Let PUREE.app take the stress out of catering management, so you can focus on what you do best, serving up delicious meals and amazing events!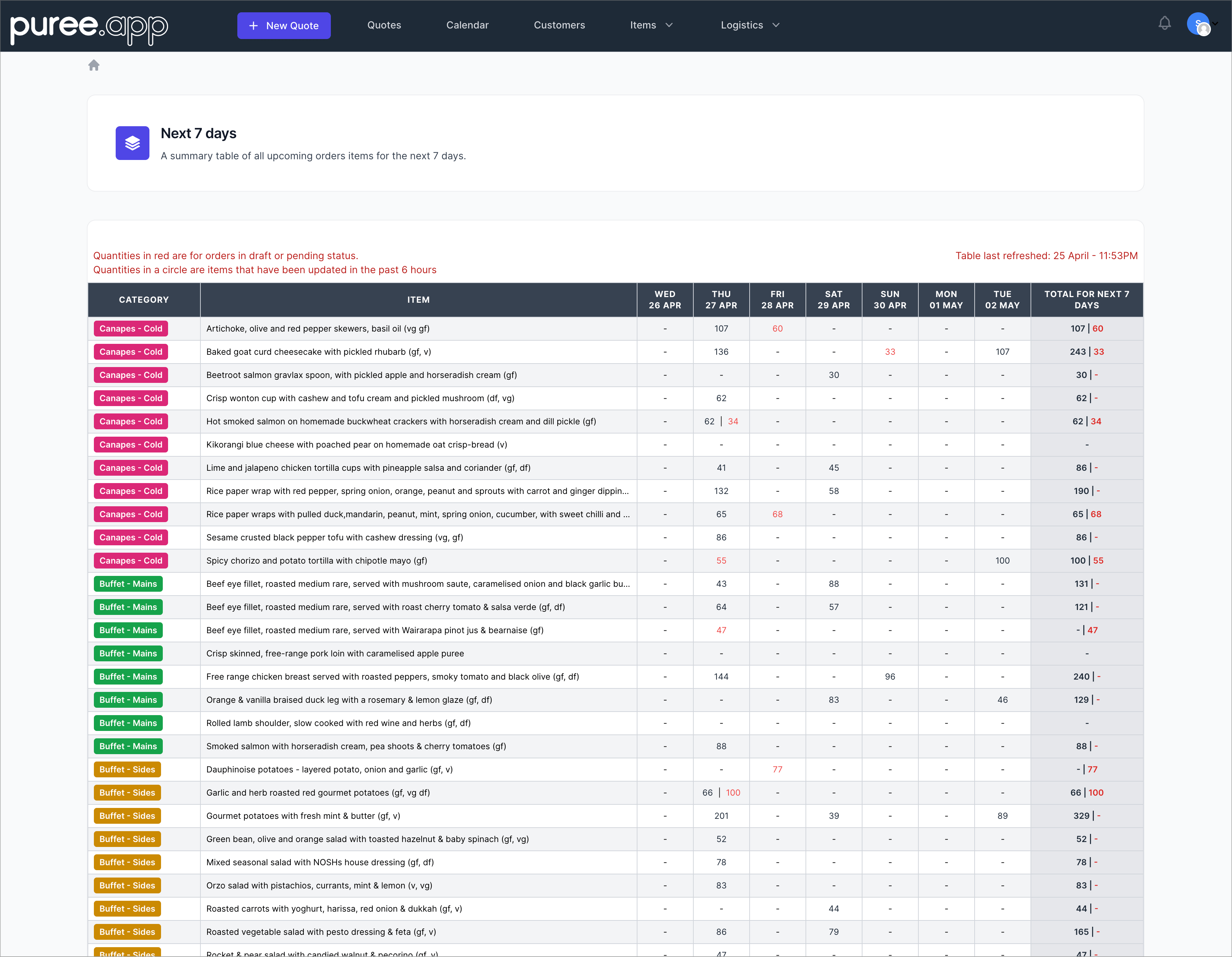 Would you like a personal demonstration?
Let's chat
We'd be more than happy to arrange a ZOOM and personnally take you through the app and show you around
Schedule a meeting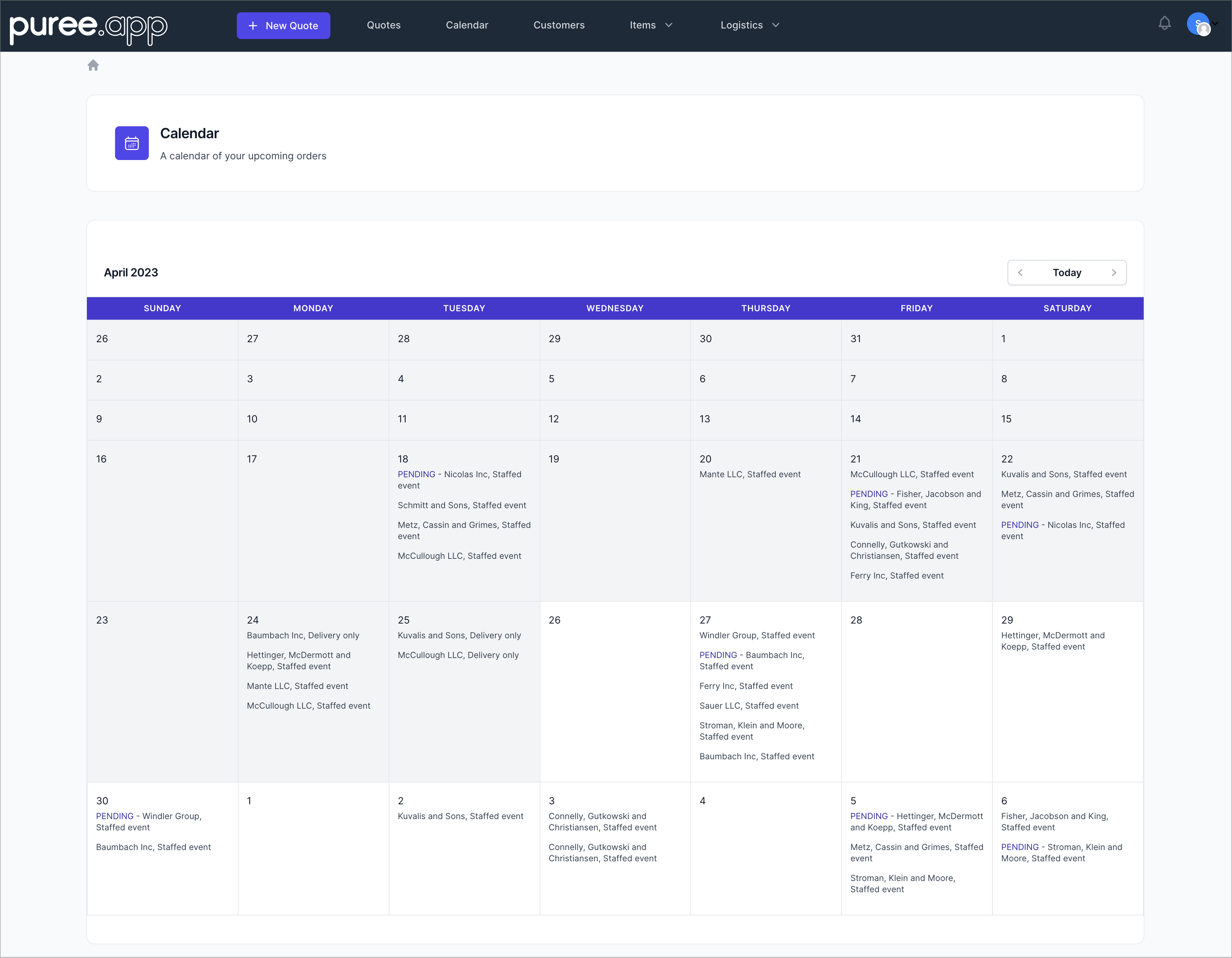 No technical skills? No problem.
At PUREE.app, we know that caterers are masters at creating mouthwatering dishes and putting on unforgettable events, not spending hours in front of a computer. That's why we're giving you the opportunity to test drive our app for free. Give it a spin and if you find the learning curve a little steep, don't worry! We're here to help with a complimentary one-hour training session and assistance with implementing PUREE into your business. Trust us, it'll be a piece of cake (or quiche, or crème brûlée, you get the idea).
View our Instructional Videos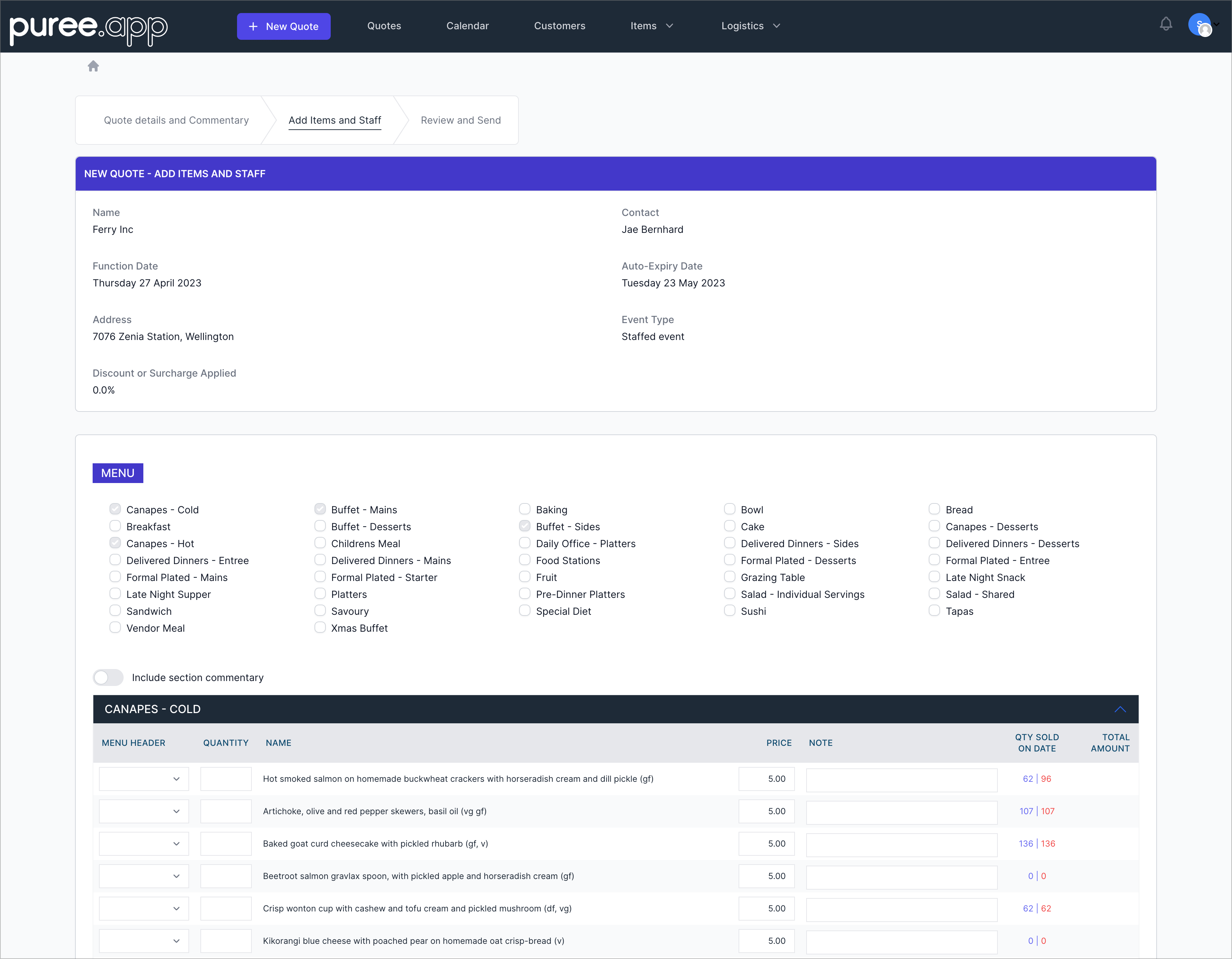 What makes PUREE different?
PUREE.app was built from the ground upwards, with very specific requirements for catering businesses in mind.
Having managed a large catering business for years, we understand the following requirements:
Quotes
Preparing quotes need to be easy, and fast.
Presented professionally with all relevant information.
Easy updating, with multiple versions saved
E-acceptances for customer acceptances
Prices adjusted automatically according to your criteria
Managing logistics
Chefs can view at a glance all orders in the system
Chefs get a holistic view of all items sold for each day
Packing slips generated for all your equipment needed at events
Calendar view for what orders are happening each day
Driver dockets for deliveries
We created PUREE.app to make it simple for catering businesses like ours to create quotes and proposals for our customers. We also wanted a way to easily communicate orders to our chefs, logistics team, and delivery drivers. It's made a big impact on our business, and we hope it can do the same for yours!

Andrew Hemphill

Founder at PUREE.app
Frequently asked questions
Can't find the answer you're looking for? Email us at email@puree.app and we will be more that happy to help
What's not included in the PUREE.app package?

We've focused on creating the most essential tools for managing a busy catering company. PUREE.app is a quote-generating powerhouse and we've included all the necessary features to help you with logistics once the quote is accepted.
At the moment, PUREE.app won't build you a website for online orders and we don't have a kitchen profitability analysis feature. But don't worry, you can use a variety of third-party providers for those services. We're all about streamlining the important stuff, so you can focus on making delicious food.

What are your terms?

At PUREE.app, we believe in keeping things simple. That's why we offer a straightforward subscription model that charges a fair, monthly fee for access to our amazing app. And don't worry about being locked in - our plans are flexible and you can cancel at any time. But with all the powerful features and user-friendly interface we've packed into our app, we're confident that you'll love it so much, you'll never want to cancel. Give it a try, you won't regret it!

Is it difficult to set-up?

The app is a breeze to use, but don't be fooled - getting your business set up on PUREE.app might take a bit of elbow grease. Think of it like moving into a new house - it takes a bit of work to get settled, but once you do, it's smooth sailing from there. You'll need to add all your menu items, equipment, and prices, but trust us, it's worth it. And if you ever feel like you're in over your head, don't worry - we're here to lend a helping hand

Where are you based?

PUREE.app hails from the beautiful land of Wellington, New Zealand! Our team is based in the capital city, where we work hard to bring you the best catering management tool out there. So whether you're located in Wellington or halfway across the world, you can trust that PUREE.app has the global perspective to take your catering business to the next level.